How do I setup my Opt-out page?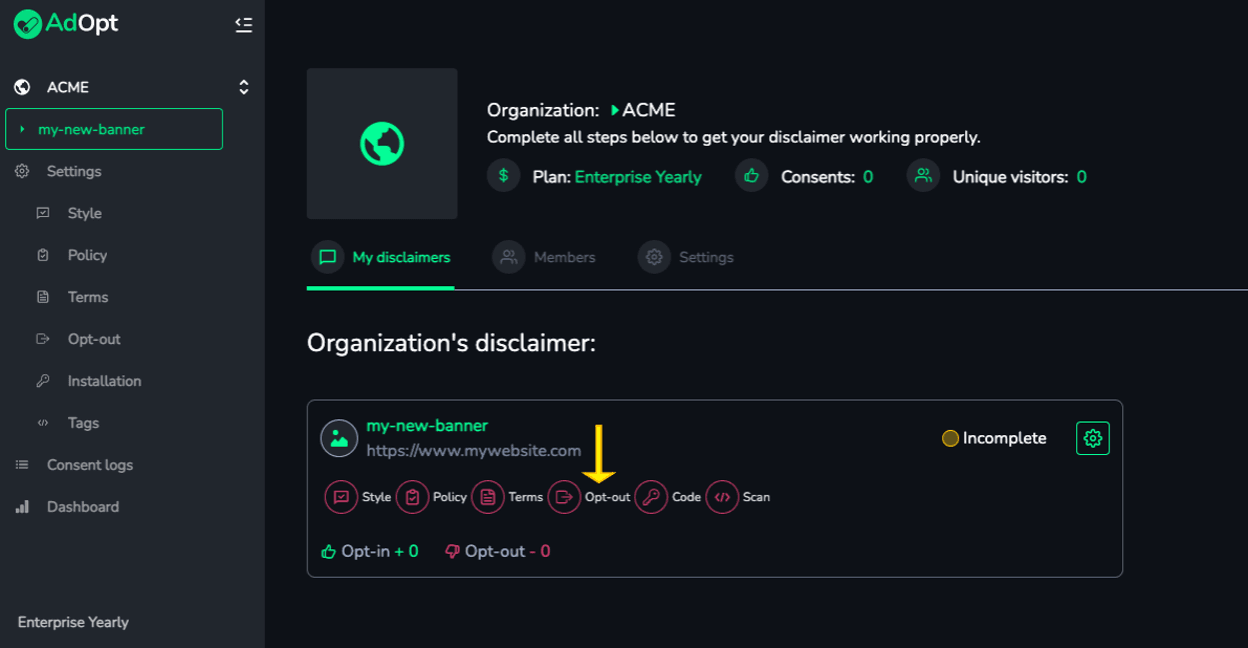 Access the Setup area of your Opt-Out banner, right from your AdOpt panel.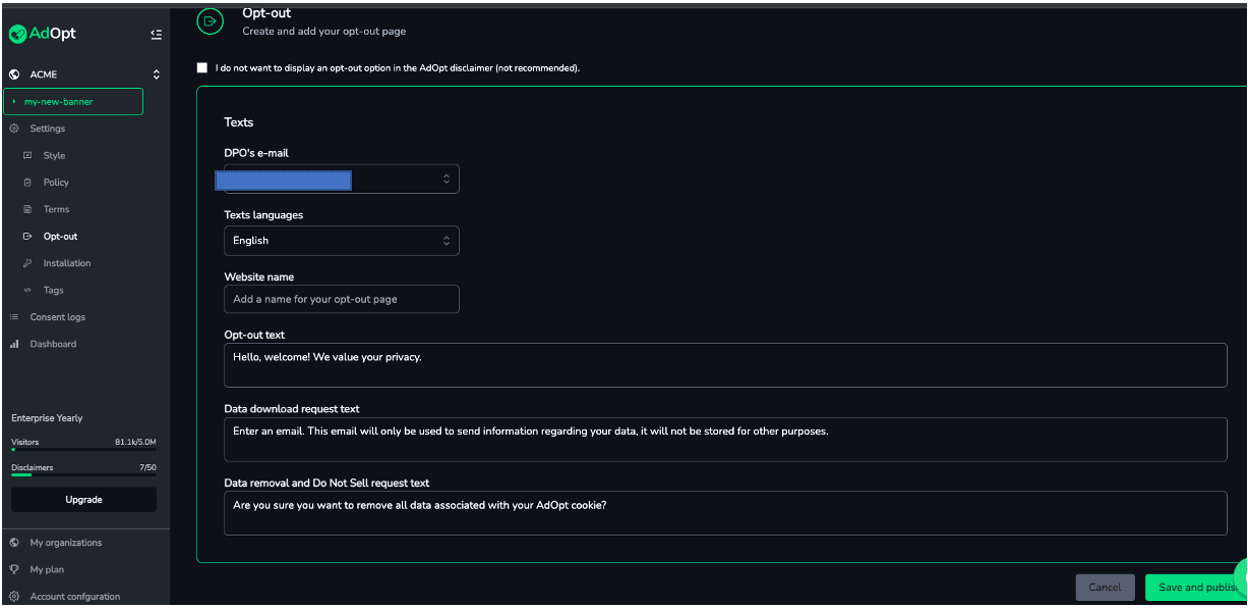 There are 5 distinct fields, which will be filled in and automatically allocated to your exclusive page!
Below are our 2 examples of recommended texts. (be sure to validate with your DPO or even a lawyer).
*Remember that there are other regulations that may override your ability to delete data, etc. (E.g. Health, IRS, 401(k)...)
1. Website Name
Enter the name of Your Site, or company/group - if you need to position yourself as a Company/Group rather than a specific Brand.
2. DPO email
Enter the e-mail address of the professional who will receive all requests from visitors.
3. Opt-Out text
<u>- 1st suggestion:</u> Hello, you are very welcome! We, at COMPANY X, value your privacy. Therefore, at any moment, you can request the deletion of your data from our database. To do this, simply follow the steps below, and your request will be processed as soon as possible.
(if you prefer you can end with:; "processed in XX hours")
4. Text for the Download Request. _If we have any of your personal data in our databases, which has not already been duly anonymized, and you would like to make this request. See the steps below:
Enter a secure email in the field below so we can send you anything we have here that possibly references you (the given email). Preferably use an e-mail address that you may have already used on our sites. Because your browser may have deleted navigation cookies and even Opt-in cookies, automatically generated at the time.
So, with an e-mail address that you have already used, our search will be optimized. (watch out for typing errors)
Note: This email will be used only for sending the report, we will not use it for any other purpose, and it will also not be stored for other purposes._
5. Text of the Opt-out Request. _By pressing the button below all records, which we may have about you, will be duly deleted. With the exception of those which have already been anonymized, or which by law still need to be kept (e.g. necessary data for the fulfillment of laws/regulations).
*Here you can insert: ...will be properly deleted, within XX hours._
After filling out the 5 fields above, your Opt-Out page will be ready.
*(This text editing functionality exclusive for AdOpt customers, starting with the Business Plan)